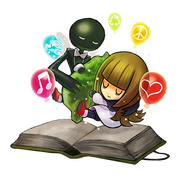 Collection 34 (Timeline Collection) is available after purchasing it through the app. There are 5 songs in this collection. These songs are all featured in Chapter T in Cytus.
All of these songs were composed by Video Game Orchestra.
This collection is about the history of Taiwan which is based on certain famous historical events in Taiwan, along with predictions about the future.
Ad blocker interference detected!
Wikia is a free-to-use site that makes money from advertising. We have a modified experience for viewers using ad blockers

Wikia is not accessible if you've made further modifications. Remove the custom ad blocker rule(s) and the page will load as expected.