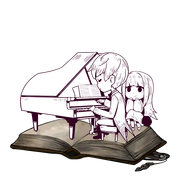 Collection 6 (Etude Collection)
is available after purchasing DLC the
Forgotten Hourglass
. This collection is unlocked after the
Library
is unlocked in playthrough 2. There are 15 songs in this collection. Completing playthrough 4 is needed to unlock all songs in this collection.
This collection consists of classical songs by famous historical composers. Thus, the tempo of the songs fluctuate greatly compared to most songs in other collections.
Ad blocker interference detected!
Wikia is a free-to-use site that makes money from advertising. We have a modified experience for viewers using ad blockers

Wikia is not accessible if you've made further modifications. Remove the custom ad blocker rule(s) and the page will load as expected.