Mirai is the name of
Alice's
cat doll. Not much is known about it but it makes frequent appearances throughout the game in rooms, cutscenes and song artwork. Mirai though cute, also suffered the pain when the car accident happened.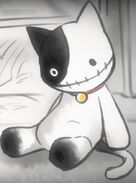 Mirai is seen in the cutscene "Where It Goes". Mirai is first seen sitting on the front of the secret way to the basement. Then Mirai is seen carried by Deemo as him and Alice go inside.
Mirai is also seen in the cutscene "Goodbye", where it is revealed to be a gift from Hans to Alice. She was holding onto it during the truck accident.
Mirai is seen in the cover art of GENESYS in Cytus, another one of Rayark's games.
Mirai (Kanji: 未来, Hiragana: みらい) means "The future" in Japanese.
Rayark has released an official Mirai plush, which is available for sale on the Rayark Concept website.
Ad blocker interference detected!
Wikia is a free-to-use site that makes money from advertising. We have a modified experience for viewers using ad blockers

Wikia is not accessible if you've made further modifications. Remove the custom ad blocker rule(s) and the page will load as expected.