Mili collection Vol. 2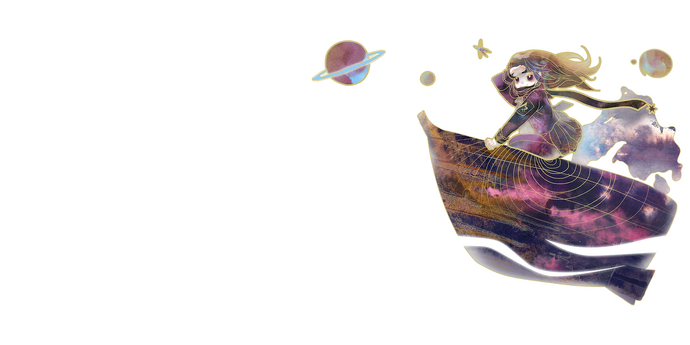 Mode
Level
Notes
Easy
2
300
Normal
6
620
Hard
9
943
Extra
-
-
BPM
212
Video

02:44

Deemo2.1 Mili Space Colony(full version)

 ソラ、咲く
 星を夢に。
 ヒト、知る。
 見上げたまま。

 あの頃と僕達と、いつまでも変わらない。
 掌を掲げて見ていた、一心に。
 一瞬で流れた光の筋は、僕の船。
 繋ぐのは、ヒトの未來。

 進んだ、僕らを
 乗せた箱舟は。
 走り出す想いを
 運んでいた。

 U may (U may), I see you (I see you).
 So say (So say), I say you (I say you).

 U may (U may), I see you (I see you).
 I know (I know), U may die (U may die).

 飛び立つ、僕らを
 乗せた箱舟は。
 重さに逆らい
 続けていた。

 壊れた、僕らの
 希望の箱舟は
 弾けた夢と墮ちて、
 消えて行った。


 Sora, Saku.
 Hoshi wo yume ni
 Hito, shiru.
 Miageta mama

 Anogoro to bokutachi to Itsumade mo kawaranai
 Tenohira wo kakagete mite ita Isshin'ni.
 Isshun de nagareta hikari no suji wa Boku no fune.
 Tsunagu no wa, Hito no mirai.

 Susunda, bokura wo
 Noseta hakobune wa
 Hashiridasu omoi wo
 Hakonde ita

 U may (U may), I see you (I see you).
 So say (So say), I say you (I say you).

 U may (U may), I see you (I see you).
 I know (I know), U may die (U may die).

 Tobitatsu, bokura wo.
 Noseta hakobune wa.
 Omosa ni sakarai
 Tsudzukete ita.

 Kowareta, bokura no.
 Kibo no hakobune wa
 Hajiketa yume to ochite,
 Kiete itta

 Phymn... tahlla voomyn che suhmi phoonqua
 Tuhnna soey sunnoh suntoh vesti dahmyon
 Treymn toh heemyn vetoon deeli chi luhnna
 Meh xavas sahla behlli yuhnno vestia


 The sky, it blooms.
 Turning the stars into dreams.
 The humans, they know.
 As they look upon the sky.

 The past and us, will stay forever unchanged.
 we raised our palms, and watched devotedly.
 A streak of light rapidly went by, that was my ship.
 It was our future, that we connected with.

 The ark advances
 giving us a ride.
 Carrying on
 our dashing thoughts.

 U may (U may), I see you (I see you).
 So say (So say), I say you (I say you).

 U may (U may), I see you (I see you).
 I know (I know), U may die (U may die).

 The ark flies
 giving us a ride.
 Defying gravity
 the ark continues to fly.

 Finally it broke
 our ark of hope.
 With our dreams it burst open and fell,
 nowhere to be found.

This song is a remix of COSMO, which appears in Cytus.
The Rayark logo appears as a patch on the girl's left arm.
The artwork of this song is used to illustrate the Collection 20 (Mili collection Vol. 2 in the music selection menu.
Ad blocker interference detected!
Wikia is a free-to-use site that makes money from advertising. We have a modified experience for viewers using ad blockers

Wikia is not accessible if you've made further modifications. Remove the custom ad blocker rule(s) and the page will load as expected.