Knight Rosabell Collection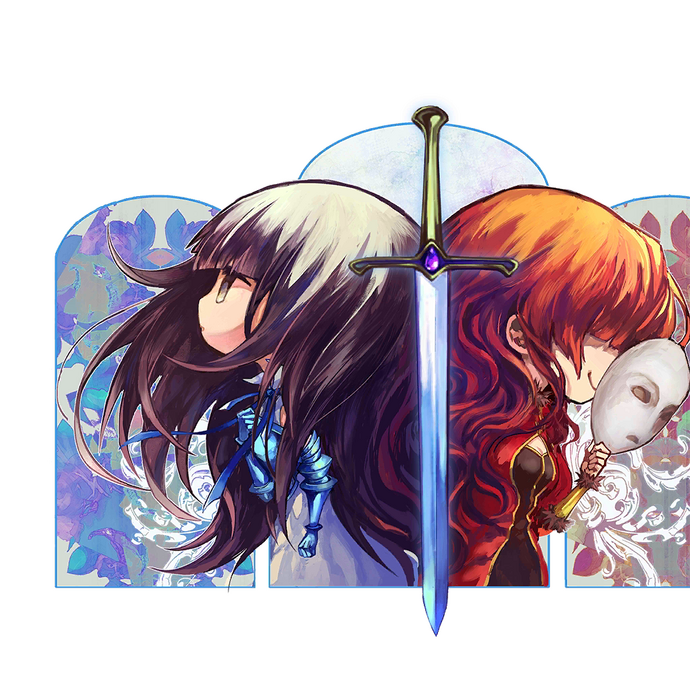 Mode
Level
Notes
Easy
1
158
Normal
4
304
Hard
7
468
Extra
-
-
BPM
160
Video

02:40

Deemo 2.0 - Hoskey - The Fallen Bloom
The artwork is based on that of "Holy Knight", the Cytus song which Chapter K is based off of, rather than that of the Cytus version of "The Fallen Bloom".

動き出す運命の輪(うんめいのわ) 
定められた結末は今… 
独り歩いて 過去を拒んだ 
闇(明日)を彷徨う華
燃ゆる瞳は 旧き友(貴女)を見詰め
来たるあの日を待つ
凍てついた心閉ざし 
光(過去)に囚われる華 
剣(つるぎ)と 盾を 
握り締め 
寂寞(せきばく)など心に隠す 
見てると心が痛む 
愚かなこの世界を奪う 
動き出す運命の輪(うんめいのわ) 
この手で止めてみせる 
定められた結末の行方 
明日と 過去は 混ざり合いぶつける 
悲しみの中で 
崩れゆく運命の輪(うんめいのわ) 
定められない未来を紡ぐ 
これで また きっと きっと 
分かり合えるだろう 
失われてる時の中で


Ugokidasu un mei no wa
Sadame rareta ketsumatsu wa ima…
Hitori aruite kako o kobanda
Asuwo samayo hana
Moyuru hitomi wa anatawo mitsume
Kitaru ano hi o matsu
Itetsuita kokoro tozashi
Kako ni torawareru hana
Tsuru gi to tate o nigirishime
Sekibaku nado kokoro ni kakusu
Mi teru to kokorogaitamu
Orokana kono sekai o ubau
Kono-te de tomete miseru
Ugokidasu un mei no wa
Sadame rareta ketsumatsu no yukue
Asuto kako wa mazari ai butsukeru
Kanashimi no naka de
Kuzure yuku un mei no wa
Sadame rarenai mirai wo tsumugu
Kore de mata kitto kitto
Wakari aerudaro-
Ushinawa re teru toki no naka de


The wheels of fate that start moving
the predetermined conclusion is now
walking alone
blossoms that roam the dark
burning pupils stare at you
and await that coming day
closing your frozen heart
a flower seized by the past
clutching a sword
and a shield
feelings such as loneliness hide in your heart
it hurts my heart to behold
I will take this foolish world
I will stop you with my own two hands
the wheels of fate that start moving
the outcome of the predetermined conclusion
tomorrow and the past clash and mingle
in sadness
the wheels of fate that crumble
prevent the undetermined future
with this we can certainly, certainly
understand one another again
inside of lost time

Ad blocker interference detected!
Wikia is a free-to-use site that makes money from advertising. We have a modified experience for viewers using ad blockers

Wikia is not accessible if you've made further modifications. Remove the custom ad blocker rule(s) and the page will load as expected.